November 13, 2019
State is taking precautions in resident halls, Keith Scholars Hall and Dawson Hall. The front desk should be staffed from...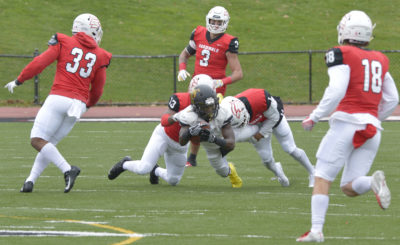 November 13, 2019
State's football team earned a 24-0 victory on Saturday, Nov. 9, against Wheeling Jesuit University. State's final game of the...
November 13, 2019
The upcoming Senior Art Exhibit, scheduled from 5 to 7 p.m. Tuesday,...

October 17, 2019
By Cathy Kunkel and Rusty Williams Every election season, we hear politicians...


Welcome to the online home of West Virginia State's college newspaper, the Yellow Jacket.
Our mission is to provide news and information for students, created by their peers. To be a strong voice for all students. To connect students living on campus and those who commute.
Our staffers are volunteers, passionate about creating this new form of student media. We all work for you. We are accountable to you.
Visit our web page. Share it. Comment. Give us feedback at wvsuyjonline@gmail.com.
If you like to write or take photographs, consider becoming a staffer.