State's College of Natural Sciences and Mathematics will host the annual Dr. James E. Brimhall Science Bowl from 8 a.m. to 3 p.m. on Friday, Nov. 1, in Hamblin Hall.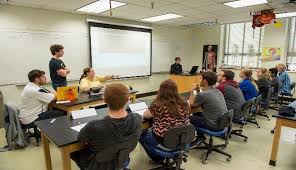 The competition will showcase teams from local high schools, and the top three teams will advance to the West Virginia Regional Science Bowl in February, according to State's website.
Teams answer random questions in a quiz-bowl style format in the double-elimination tournament.
The American Chemical Society will assist in setting up the event.
"As a member of ACS and a student here at State, I am excited that we can be a part of this event," ACS officer Rachel Chapman said. "This is a great opportunity to showcase great minds in our area and at the same time promote how great our school is to all the high schools that will attend."
According to State's website, the Science Bowl is named in honor of the late professor Dr. James E. Brimhall, who was an experimental nuclear physicist at Hamline University in Minnesota and the University of Pittsburgh. He began teaching at State in 1966 and later became an administrator, serving 11 years as vice president of administration before returning to teach physics full time.
"This tournament is a great way to celebrate the academic achievements of high school students in our area," ACS officer Olivia Fox said. "So many people praise students that are a part of sports teams, while academics are left without mention. This is a way to finally give those kids praise for their academic achievements."
For more information about the Brimhall Bowl, please contact Dr. Michael Fultz at mfultz@wvstateu.edu.