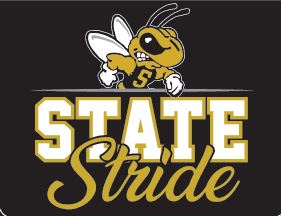 State's 8th Annual State Stride is from 12:45 p.m – 2p.m., Thursday, Aug. 22. State Stride will begin at Ferrell Hall and end with a barbeque at the University Union.
State Stride is the official welcoming to all incoming freshmen and transfer students. State clubs and organizations and community vendors will line the brick road to engage with new students. All current students are encouraged to attend and celebrate with their new fellow Yellow Jackets.
Those interested in setting up a table at State Stride needs to do so by Aug. 19. Please click here to request a table.
For any questions regarding State Stride, please contact Student Life and Engagement at 304-766-3288.