We lost a beloved alumna, Katherine Johnson, Feb. 24, 2020. She was 101 years old.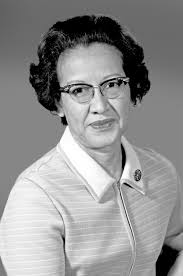 A State graduate, Johnson went on to become a leading NASA mathematician, making calculations that were vital to the first moon landing in July 1969.
Johnson, born in White Sulphur Springs, W. Va., graduated from State with her bachelor's degree in math and French in 1937. After graduating with highest honors, Johnson took a teaching job in Virginia.
In 1957, she provided math support for the 1958 Notes on Space Technology—a series of lectures given by engineers working with NASA to send man to the moon. According to NASA, Johnson "came along with the program" as it progressed.
In 1962, Johnson was called upon to do calculations by hand that were programmed into the computer. John Glenn, first American to orbit the Earth, said, "If she says they're good, then I'm ready to go."
According to NASA, the flight was successful, and Johnson will forever be remembered for those calculations.
In a press release on Monday, State President Anthony Jenkins said, "From the time she first set foot on our campus to her days as a leading NASA mathematician, Katherine was always learning, inspiring and transforming every environment she entered. Her accomplishments, at a time in America when the doors of opportunity were not always open to African-Americans, are nothing short of remarkable, just like the woman she was."
In 2018, Johnson returned to campus to celebrate her 100th birthday and to be honored at the Katherine Johnson Plaza and statue.
"The thoughts and prayers of the Yellow Jacket Nation are extended to her daughters and the entire Johnson family at this time of grief," Jenkins said.