Flu season hits during the colder months, usually October through March.
Two types of flu, Influenza A and Influenza B, could potentially be deadly. The CDC estimated at least 22 million cases of the flu this season, 210,000 hospitalizations and 12,000 deaths.
College students who gather in classrooms, live in dorms and are within close quarters risk spreading the flu to others, and the risks are high. The CDC estimates that 5 to 20% of Americans get the flu during flu season.
Although healthy college-age students are less susceptible to severe complications, they are not any less susceptible to coming down with the flu.
Sarah Knight is the nurse practitioner at the FamilyCare Health Center on the campus.
"In the past week, I have had three students test positive for the flu," she said.
However, Knight said the number of "sick visits" have increased with symptoms, including common colds, ear infections, sinus infections and strep infections.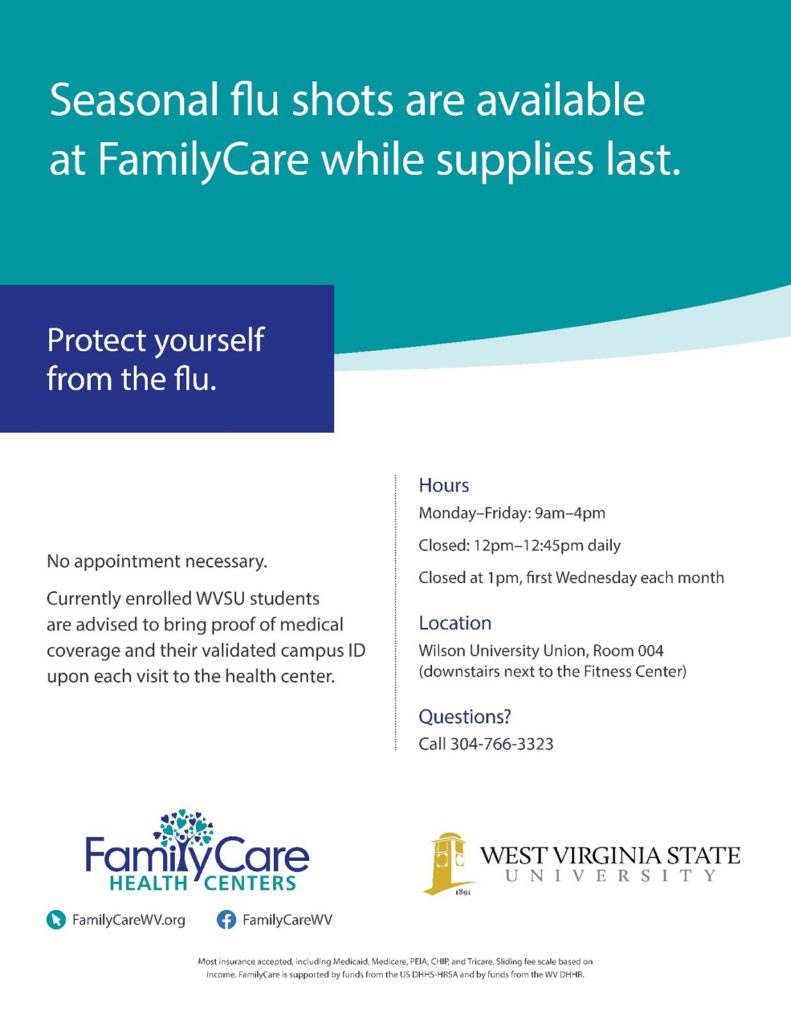 Health professionals strongly encourage flu shots. They say vaccines can prevent outbreaks of disease and save lives. Children are two to three times more likely than adults to get sick with the flu and children typically spread the flu to others.
The elderly, newborns and people with certain chronic illnesses are much more susceptible to the life-threatening complications of flu. Receiving the flu shot not only offers protection, but it can help protect others who may be more at risk for severe complications associated with the flu.
West Virginia has declared influenza activity to be widespread. Below are some preventative steps.
Take everyday prevention actions to stop the spread of germs:
Cover your nose and mouth with a tissue when you cough or sneeze. Throw away the tissue after you use it.
Wash your hands often with soap and water or use an alcohol-based hand rub.
Avoid touching your eyes, nose and mouth.
Try to avoid close contact with sick people.
Stay home for at least 24 hours after your fever is gone except for medical care or other necessities.
Limit contact with others as much as possible to keep from infecting them.
To protect yourself from the flu, please visit Sarah Knight at the FamilyCare Health Clinic on the bottom floor of the Student Union (across from the fitness center).