The Yellow Jacket women's tennis team opened their 2018-2019 spring campaign by playing three consecutive NCAA Division 1 opponents in Wright State, Marshall, and finally at Radford, where they lost 5-2 on Monday
The Yellow Jackets lost the opening doubles point after Laura Isbey and Kierstin Hensley were handed a 6-4 defeat at #1 doubles, and Sydney Miller and Anya Kruglova dropped their #3 doubles match 6-1.
The #2 doubles pairing of Kayla McKnight and Chante Malo's match was called short due to Radford clinching the doubles point, but the pairing was in the midst of a dogfight tied 4-4.
The highlights of the day would go to #4 singles player McKnight, and #5 Nika Tadic who claimed the two victories for State on the day.
McKnight won in straight sets 6-4, 7-6(7-5), while Tadic would have to fight for her win after dropping the first set 6-2.
Tadic the claimed the second set 6-4, before winning the deciding super tiebreaker 11-9 after being down 7-2.
Hensley lost 6-1,6-1 at #1 singles, while Isbey dropped a tight first set 7-5, and then lost the second set 6-2 at the second position. Kruglova dropped her match at #3 singles also 6-1, 6-1, and Freshman Chante Malo dropped her match 6-3, 6-2 at #6 singles.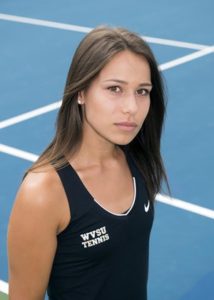 "It feels great to win such a close match," Tadic said. "Especially one where I had such a great comeback. It gives me motivation and I looking forward to more good matches and the rest of the season."
State returns to the court on Sunday Feb. 10 when they host Salem International at home in a dual men's and women's match.