Running Backs Calil Wilkins and Carl Harmon combined for more than 300 yards to lead the Yellow Jackets to a 52-24 over the Concord Mountain Lions on a damp October Saturday.
It was the third straight win for State, now 4-3.
​The Mountain Lions scored first off a 29-yard field goal from kicker Luke Walls to take a 3-0 lead. 
​State responded with Faustino Saucedo connected with Carl Garmon for a 21-yard touchdown pass to give State their first lead of the game.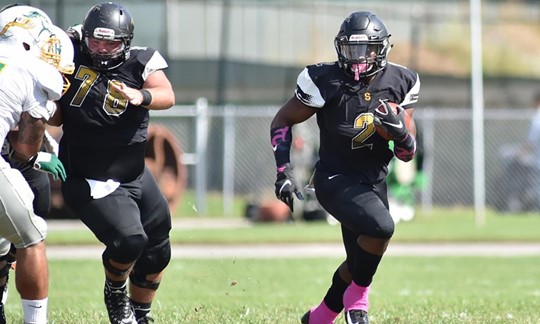 ​Concord closed out the first quarter with a 40-yard touchdown pass from Adam Fulton to Tywan Pearce to take a 10-7 lead. 
​Calil Wilkins scored his first touchdown of the day from 14 yards out to give State a 14-10 lead. Aaron Ball sent a 31-yard field goal to push State further ahead 17-10. 
​Carl Garmon closed out the first half with his second touchdown of the day, this time a 28-yard rushing touchdown, giving the Yellow Jackets a 24-10 lead heading into halftime. 
​State erupted in the third quarter, scoring four touchdowns. 
​Tyrell Henderson scored the first, a three-yard touchdown pass from Saucedo. Calil Wilkins scored his second touchdown of the day, this one a 21-yard touchdown run. A.J. Barrette scored off a 76-yard touchdown run, and Barrette scored off a 22-yard touchdown pass from Saucedo. 
​Concord's Kris Copeland added a 35-yard touchdown run of his own in the third quarter as well. 
​State entered the fourth quarter with a commanding 52-17 lead, and Concord failed to chip in much further, scoring only once off a another touchdown pass from Fulton to Pearce, this one a 50-yard connection, which set the final score of the game, 52-24. 
​Faustino Saucedo went 7 of 14 on his passing attempts, for 114 yards, and three touchdowns. 
​Calil Wilkins gained more rushing yards than Concord's entire team, Wilkins 192 to Concords 151. Wilkins had two rushing touchdowns, and did all of that on 14 carries. Carl Garmon had 116 rushing yards on 14 carries and a touchdown, while A.J. Barrette had a 76-yard touchdown run. 
​Tyrell Henderson had 3 receptions for 63 yards a touchdown for the Yellow Jackets, while A.J. Barrette and Carl Garmon each had a receiving touchdown. 
​State now sits at 4-3 on the season, with a MEC record of 3-3. Saturdays win pushes State above .500 for the first time this season. Concord now sits at 1-6 overall, with all the games having been played within the MEC. 
​State will travel to West Liberty (2-5) on Saturday, October 20th.