Nate Burton, State's athletic director, sees great things ahead for teams at State. "I think the expectations have never been greater for our athletic department," he said.
With preseason rankings of third for football and fifth for volleyball in the Mountain East Conference and the women's tennis dynasty, Burton is "excited to get this year started. It's time for our student athletes to perform how we know they can."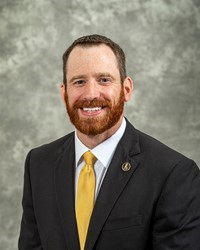 One of the priorities for the athletic department is enhancing the experience for student athletes, Burton said. Some of the main focuses are new tennis courts and finding funds to turf the softball, baseball and football fields. However, putting turf on three fields is expensive – $1.5 million. Along with that, all of the funds need to be from private sources, Burton said.
"We are really trying," he said. The Shawnee Sports Complex is an essential addition to State athletics this year. "One of our teams is there every day of the week," he said.
The women's soccer team would not have been added if it weren't for their soccer fields. The football, baseball and softball teams also use them. It is also a revenue generator because tournaments can be held there.
The football team's first home game is Saturday, Sept. 14, 2019, against Glenville State College.
According to Burton, "The UC game is even bigger for us this year." It was moved from the beginning of the season to Nov. 2. The NCAA chose it as one of 11 "showcase" games of the season. It will be nationally broadcast and great exposure for State, Burton said.
Burton concluded: "It's a home game against big rivals, so I hope we get a big turnout."