Two veteran Yellow Jacket staffers were recognized Thursday with the online newspaper's first "Vee" award for outstanding service and dedication.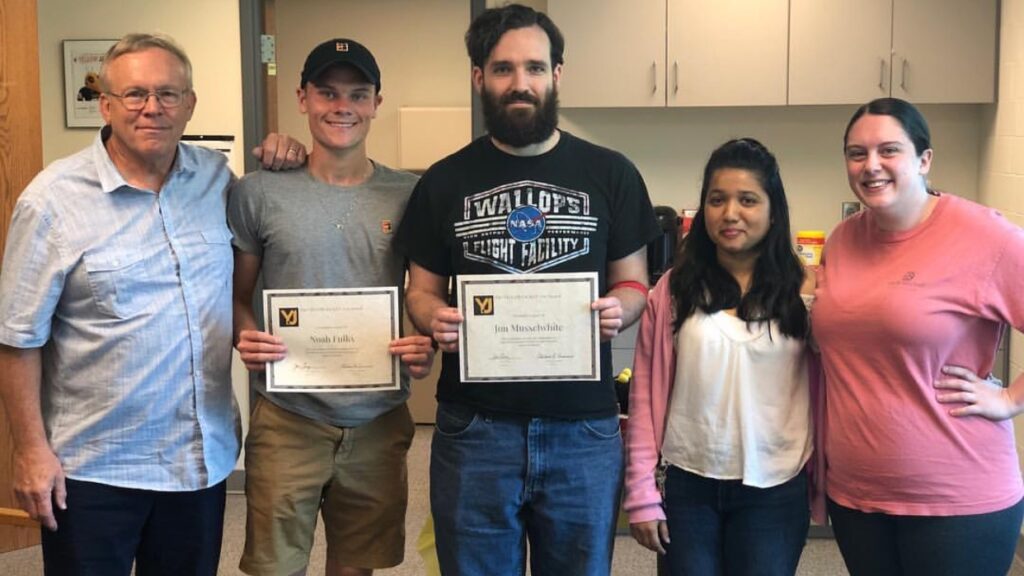 Honored were senior journalism major Noah Fulks and senior computer science major Jon Musselwhite. Both volunteered for the yj-online.com when it transformed from a monthly publication to a web site in October 2017.
Musselwhite created the Internet platform for the YJ, equal to other university online newspapers. Fulks juggled his participation on the men's tennis team and a part-time job with the Gazette-Mail sports department to be sports editor.
"Quite simply without students like Noah and Jon, we could not have become the YJ," advisor Prof. Joe Long said. "We started from literally nothing – no staff, no budget. They and a cadre of others passionate about recreating the Yellow Jacket made it possible."
Editor Chelsea Simms, YJ general manager Ria Mitra and Communications department chair Prof. Steve Gilliland recognized both students, too.
The Vee Award is derived from the YJ newsroom mascot, a small, fuzzy stuffed yellow jacket embodying the staff's fun but serious culture, and is a tip of the hat to State mascot Stinger.
The occasion also marked the last day for advisor Long, an adjunct in public relations, and more recently journalism, after five years with the Communications department. The WVU grad is retired again after a 30-year career in PR and journalism, and six years as an adjunct at the Reed School of Media.