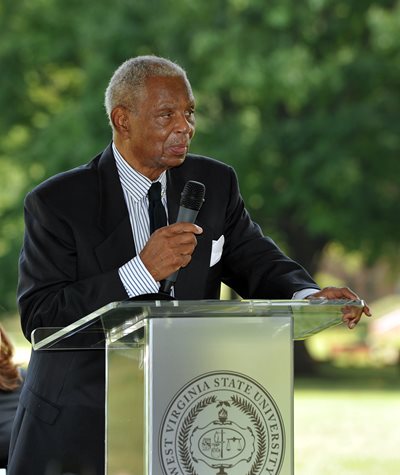 One of our greatest graduates, civil rights icon Judge Damon J. Keith, has died. He was 96.

Keith was a grandson of slaves and figure in the civil rights movement who as a federal judge was sued by President Richard Nixon over a ruling against warrantless wiretaps.
He died in Detroit, the city where the prominent lawyer was appointed in 1967 to the U.S. District Court and his decisions desegregated schools.
Keith served more than 50 years in the federal courts, and before his death still heard cases about four times a year at the 6th U.S. Circuit Court of Appeals in Cincinnati.
Keith graduated in 1943 and joined the U.S. Army during World War II.
When he returned from the service, then State President John W. Davis encouraged him to attend law school and work through the legal system to change civil rights laws. He studied under Thurgood Marshall, the first black Supreme Court Justice.
"West Virginia State College shaped my entire future," Judge Keith said during the September, 2013 groundbreaking ceremony for the residence hall that bears his name.
Keith is the recipient of numerous awards, most notably, the NAACP's highest award, the Spingarn Medal, whose past recipients include the Reverend Martin Luther King, Jr., Justice Thurgood Marshall, Rosa Parks and General Colin Powell.
http://www.wvstateu.edu/About/History-and-Traditions/Damon-J-Keith.aspx
As a federal judge, he was a defender of the constitutional and civil rights of all people. In United States v. Sinclair, commonly referred to as "the Keith Decision," the Supreme Court unanimously affirmed Judge Keith's landmark ruling prohibiting President Nixon and the federal government from engaging in warrantless wiretapping in violation of the Fourth Amendment.

More recently, in Detroit Free Press v. Ashcroft, Keith stood up to President George W. Bush during the aftermath of 9/11. Writing for a unanimous United States Court of Appeals panel, Judge Keith declared "Democracies die behind closed doors," and ruled it unlawful for the Bush administration to conduct deportation hearings in secret whenever the government asserted that the people involved might be linked to terrorism.