The 2018-19 women's basketball season tips off with the Wyndham Gardens Conference Challenge Saturday and Sunday in the Walker Convocation Center.
    Glenville State and Chowan are first up at 6 p.m. followed by West Virginia State taking on Livingstone at 8 p.m. to finish off the day. Chowan and Livingstone are out of the Central Intercollegiate Athletic Association.
"I'm very excited to see what this young team can do," said Head Coach Charles Marshall . "We have a lot of new faces."
     Last season's team finished 14-16 overall and 13-9 in Mountain East play on the way to advancing to the conference tournament semifinals.The Yellow Jackets graduated their top two scorers in Aurreshae Hines and Jasmine Davis, and 45 percent of the team's point production in all. Hines was second on the squad in assists and Davis second in rebounding.
     "You can never replace two great players like we had last year," Marshall said. "But I believe we have some talented players that on any given night can step up and contribute."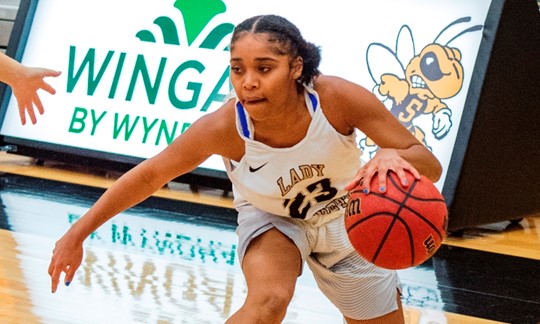 Not that the cupboard is completely empty.
     WVSU returns 5-foot-5 guard Jordan Miller who started 26 times last season and averaged 8.7 points, 1.8 assists, and 2.5 rebounds.
      Also back are sophomore guard Amari Grace (7.9 ppg., 3.1 rpg.), senior guard Alexandra Jackson (7.4 ppg., 4.9 apg.), and 5-10 forward Lyrin Hatcher (4.6 ppg., 5.3 rpg.). 
All of them started a significant number of games and gained valuable experience.
      The Yellow Jackets feature four true freshmen on the roster including 5-8 twins Charity and Payton Shearsfrom Ashland, Kentucky, Sierra Womack from Milton, and Kalia Cunningham from Homewood, Alabama. Allison Johnson from St. Albans and Chloe Cheresnefrom Salem, Ohio are redshirt freshmen.
       Here is a quick look at the Jackets' opponents in this year's event.
      * Livingstone (6-21 last season) — The Blue Bears are led by 5-10 junior Kyala Searcy who averaged 14.9 points and 5.9 rebounds last season along with 5-8 Asia Green who averaged 9.6 points and 5.9 rebounds. Sophomore Taylor Perkins, a 5-9 forward, averaged 11 points and 4.2 rebounds on her way to being named to the CIAA All-Freshman team.
      * Chowan (19-9) —  The Hawks return three starters from last season's squad: Mariah Coker, Jada Lee, and Danielle Weldon.
       Coker was named to the Preseason All-CIAA list as the returning scoring leader for the Hawks at 12.0 points per game while also adding 5.0 assists. Lee averaged 8.1 points and 3.6 assists while Weldon posted 10.9 points and 7.0 rebounds per night.
       Joanne Williams returns as the leading rebounder for the Hawks at 8.3 rebounds per outing.  The Hawks were the best in the CIAA in rebounding at 47.0 boards a game, good for third in the country.
      Here is the complete tournament schedule:
      Saturday, November 10
     6:00 p.m.  – Chowan vs. Glenville State
     8:00 p.m. – WVSU vs. Livingstone         Link to Live Stats
     Sunday, November 11
     1:00 p.m. – Livingstone vs. Glenville State
     3:30 p.m. – Chowan vs. WVSU