The State Women held off a furious 4th quarter come back attempt by Shepherd University Wednesday to win 87-86 in the opening round of the Mountain East Tournament in Wheeling. It was the third meeting between the teams, with each winning on their home floor.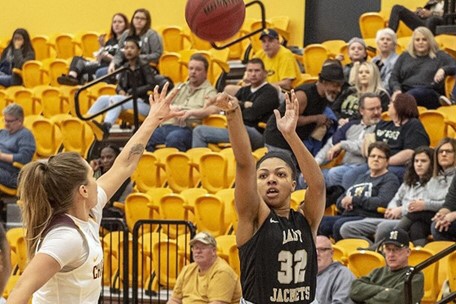 The Jackets took the lead for good in the 1st quarter on a Chloe Cheresne 3 pointer at the 6:24 mark putting WVSU up 14-12 and would lead 25-20. State biggest lead was 75-55 at the 2:22 mark on a layup by Amari Grace and would take a 75-61 lead into the 4th quarter.
WVSU was lead by Charity Shears with 21 points, Anesha Harmon with 16 points, and Amari Grace with 11 points. State advances to play #1 Seed Glenville State College at 6 on Thursday.