More than 270 students graduated from State on Saturday. Baigen Aziz Seawell was recognized as summa cum laude and received a Bachelors degree in communications.
Commencement speaker, Rev. Ronald W. English, praised the graduates for devoting their time to their education. President Dr. Anthony Jenkins applauded State graduates and encouraged them to continue to work toward their goals in life.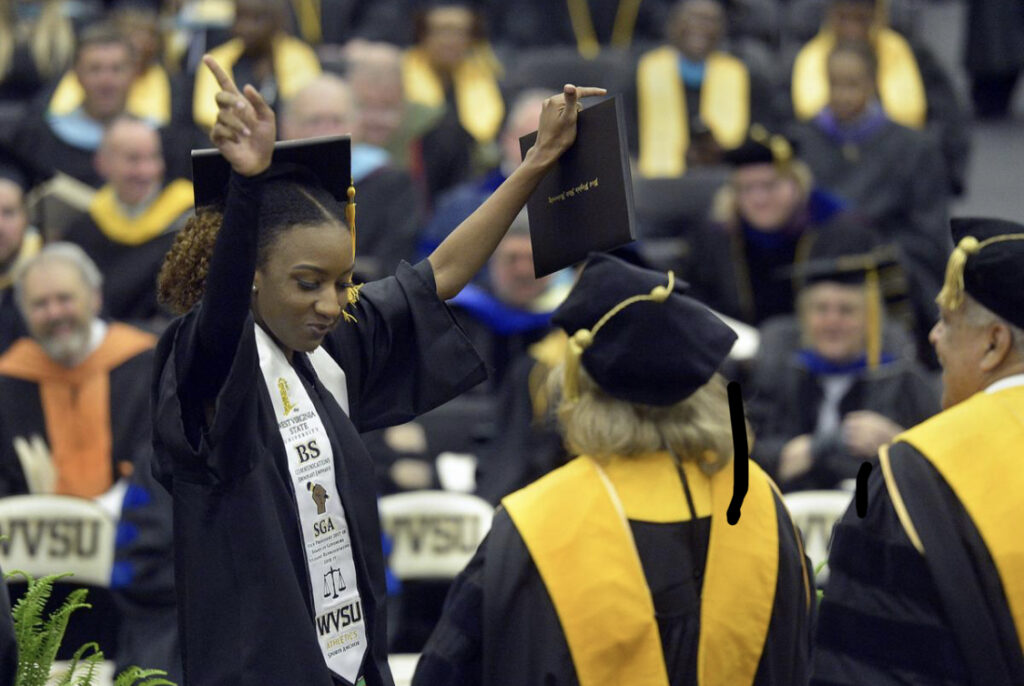 Below is a list of graduates.
MASTERS OF ARTS IN MEDIA STUDIES
MASTER OF PUBLIC ADMINISTRATION
David Lowell Gillespie
Samantha Renee Loudin
MASTER OF SCIENCE IN BIOTECHNOLOGY
Tolulope Abodunrin Akinmoju
Tosin Enimofe Akinsipe
Kshitiz Dhakal
Saugata Dutta
Tawna S. Heath
Sabin Khadgi
Binlit Mathew
Nirwan Tandukar
MASTER OF EDUCATION IN INSTRUCTIONAL LEADERSHIP
Michael William Black
Benjamin Michael Fuller
Edgar Daniel Kraemer Harbert
Justin David Hersman
Katelynn Miranda King
Donald Andrew Linger
Karrie Markezich Lowe
Beverly Ann Smith
Laurel Hope Tanner
Christin Lynn Williams
MASTER OF SCIENCE IN CRIMINAL JUSTICE ADMINISTRATION
Cornelius Jordan Hagins
Jamain Hunt
Kimberly June Moffett
Shane Madison Shamblin
Christopher Elliot Thompson
Jill Robin Thompson
Mallory Noelle Woods
BACHELOR OF ARTS IN ART
Winafret Lynn Casto
Kristen Jessica Hicks
Anthony W. McGriff
Christopher Michael Moynahan
Trayvis Marcell Patterson
Zachary Robert Douglas Stamper
Gilbert Joshua Vega
BACHELOR OF ARTS IN ENGLISH
Brian Andre Bucklew
Elizabeth Ann Carrier
Hannah Elizabeth Gerencir
Nicholas Jack Ingram
Jonathan I. Milton
Jason Allen Thornton
Keisha Doble Wright
BACHELOR OF ARTS IN INTERNATIONAL STUDIES
Daniel Travis Means
Elizabeth Danielle Warner
BACHELOR OF FINE ARTS
Daniel Levi Adamczyk
Stevie Lee Adamczyk
Kelton James George
Christopher Knud Rasmussen
Michael Thomas-Howard Swagger
BACHELOR OF SCIENCE IN COMMUNICATIONS
Matthew Henne Burnette
Noah Nathaniel Fulks
Kayla Danielle Holder
Mar Lamadrid Coll
Aaron Joseph Lynch-Kelley
Charles Gerald Oakley
Amanda E. Rogers
Baigen Aziz Seawell
Aric Douglas Taylor
Kevin Cody Walker
Angelica Maria Willis
Marijean Withers
REGENTS BACHELOR OF ARTS
Nicholas Ansah
Joshua Frank Barnett
Savannah Tennille Belcher
Jacob D. Bowman
Ashley Louise Braley
Tamika Michelle Brice
John Eric Courtney
Jerricka L. Davis
Vonzell Jerome Groom
Johnathan Hewitt
Morgan Bryant Higginbotham
Ruth Elizabeth Hill-Washington
Cooksey Perry Hunter IV
Kyle Lee Jaskulske
Kris E. Kern
Tracy Stuart Kinder
Andrea Nichole Koontz
Alex Jordan Marrs
Matthew Tyler Mayo
Wendell L. Miller
Emily Carson Moore
Kimberly Ruth Murphy
Jamie Michelle Pell
Sharon Lynn Stackpole
Deborah Susan Starks
Crystal Dawn Thomas
Daniel Jacob Ware
Tina Lynn White
Alfred Shelby Williams
BACHELOR OF ARTS IN ECONOMICS
Kelly Jo Boggess
Olivia Mackenzie Carnegie
Brian K. Conley
Laura Christina Isbey
Douglas Allen King
Aaron Alexander Moore
William Dale Siders
BACHELOR OF ARTS IN HISTORY
Alexander P. Bennett
Cal Parker Colangelo
BACHELOR OF ARTS IN POLITICAL SCIENCE
Michael Angelo Argento
Alexander P. Bennett
Sarah Zell Christian
Cal Parker Colangelo
Rachel Marie Harper
Gavin Hunter Nichols
Connor Louis Slagill
BACHELOR OF ARTS IN PSYCHOLOGY
Ra'ed Joseph Abdel-Hadi
Ashley Nicole Clark
Michelle Lynn Derreberry
Shantel Lynn Fierbaugh
Zaynah Lana Kali
Lakin Elizabeth Keeney
Madelyn Paige McDermitt
Jordan Nicole Schoolcraft
BACHELOR OF ARTS IN SOCIOLOGY
Robert S. Branch
Roxanne Marie Draganowski
Moises Valcarcel
BACHELOR OF SCIENCE IN BUSINESS ADMINISTRATION
Russel R. Akers III
Brandon Ball
Jalen Roy Benjamin
Kelly Jo Boggess
Rhidzo Nino Breidel
Gabriel Kipp Brewer
Olivia Mackenzie Carnegie
Gabrielle Bliss Cochran
Brian K. Conley
Sable Cameron Cooper
Ethan Rhea Cross
Zachary Kane Fridley
Jahlen Rashard Greene
Sheila K. Hicks
Caitlyn Mashelle Honaker
Kameron Chance Hornsby
Laura Christina Isbey
Douglas Allen King
Zachary Ryan Koontz
James Evan Marcum
Jonathan David Matuszkiewicz
Bryan Nathaniel Mazzella
Patrick Alexander Messenger
Jayson Blain Poling Mitchell
Shaina Nicole Prince
Stacy Dawn Quillen
Elisha Elliot Shank
William Dale Siders
Cynthia Nicole Smith
Kaylan L. Striggles
Kayleigh Leanne Thompson
Zaviaé Terrique Walker
Vanessa Lynn Walton
Sarah J. Ward
BACHELOR OF SCIENCE IN BIOLOGY
Amneh Farid Alkatrib
Bethany Kristine Allred
Matthew Allend Blackburn
Nicholas S. Bonnett
Joshua Matthew Davidson
Adriana Marie Fleming
Amber Marie Mellinger
Brooke Elizabeth Mollett
BACHELOR OF SCIENCE IN CHEMISTRY
Hunter Lee Aliff
Edgar Ulises Lopez-Torres
Harlee Faith Pauley
David Anthony Stone VI
BACHELOR OF SCIENCE IN COMPUTER SCIENCE
Zelalem Tedra Addis
Nicholas David Cartwright
Austin Roger Francis
Jonathan Daniel Musselwhite
Chaz Alexander Pittman
Danford Pershing Snowden Smith
Jamie N. Veronda
BACHELOR OF SCIENCE IN MATHEMATICS
Danford Pershing Snowden Smith
Jamie N. Veronda
BACHELOR OF SCIENCE IN CRIMINAL JUSTICE
Alexander William Bobinger
Christopher Ian Boggess
Luke Landon Bowman
Jamal DeVaughn Brown
Seth Michael Burger
Nicholas M. Dalporto
Diego Armando Damian Espinoza
Courtney Nichole Dexter
Morticia Elicia Dyess
Hameed Ahmad Farook
Heather Nicole George
James Micah Goff
Donovan Eugene James Grooms
Michael David Hancock
Tyrell Le'Marr Henderson
Michael Paul Hill
Shawntel Kathryn Hunter
Okechukwu Patrick Johnson-Agwu
Katelyn N. Justice
Booksanna Marie Kennedy
Stefani Rene Keys
Jae'von LeNell McClain
Amber Marie Mellinger
Bethany Ann Neff
Jonathan Paul Nester
Patrick Joseph O'Neill III
Joshua Richmond Powers
Anna Simone Ross
Takeiya R'Shaun Smith
Joseph Levi Stoneman
Amy Dey Thomas
Craig Alan Thomas
Jessica Elizabeth Toney
Malik Jamal Treadwell
BACHELOR OF SCIENCE IN EDUCATION
Haley Gail Barnett
Zoey Ellen Carte
Kristi Michelle Casto
Alanah Christine Coleman
Carly Jane Dye
Rachael Nicole Fortune
Jennifer Lauren Herscher
Barbara Jean Hopkins
Kaitlyn N. Jenkins
Kylie Paige Jones
Sarah Michelle Jones
Jessica Lynn McCormick
Casey Marie Montgomery
Martin Aloysius Nicolay
Andrea Nicole Rankin
Sarah Elisabeth Romaca
George Eugene Smith
Kaylee Jon Smith
Cassie Rashell Taylor
Tevin Nathaniel Taylor
Christopher Edward Thayer
Samantha Jordan Tulley
Raven Raye Withrow
Brooke Alexzandra Young
BACHELOR OF SCIENCE IN HEALTH SCIENCE
Renae Bailey
Kendell Bryant Martin
Juantajah Kyche Spillman
Carmen L. Stein
Bruce Alan Whitten
BACHELOR OF SCIENCE IN SOCIAL WORK
Jacob Matthew Bounds
Ciara Danielle Bowman
Linda Kaye Carter
Nicholas Michael Cogar
Alesia A. Duncan
LaDonna Diane Gilpin
Angela Michelle Graley
Itai Marie Gravely
Britany Hannah Honaker
Sonia Renee Manriquez
Jessica Lynn Maxey
Megan May McCormick
Vincent Maurice McCray
Emily Dawn McNally
Kristina Alexis Moore
Keshia Marie Neal
Cara Ann Nelson
LaAmya Arlene Nowak-Manley
Amber M. Perry
Kiersten Elyse Poore
Natasha C. Reed
Michelle L. Scarbro
Ashleigh Nichole Sharp
Stephen Ernest Simmons
Ashleigh Dawn Smith
Elizabeth Kae Tarver
Arminda Michaela Taylor
Emily Paige Taylor
Alexesis Brianna Walker
Jordan Ceiara Weaver
Brandy Marie Woods
Cristen Dawn Wyatt-Young
BACHELOR OF SCIENCE IN SPORTS STUDIES
Brittany D. Allison
Joseph Laythen Good
Brookelyn Alexis Hale
Callie Joann Huck
Terrell Lee Lovejoy
Christopher James Matthews
Ryan Casey McDonough
Kayla Christine McKnight