With 58 percent of the votes, Colleen Miller and Ryan McCoy were elected as State's new SGA President and Vice President.
Miller is an international business major and McCoy is a political science major. Miller and McCoy will both be seniors next year.
The most contested race in last Friday's election was for Board of Governors representative. Grazielle Preterotto captured the position with 35 percent of the votes. She ran against outgoing SGA President Brandon Martinez, Nicole Smith and Scotti Hager.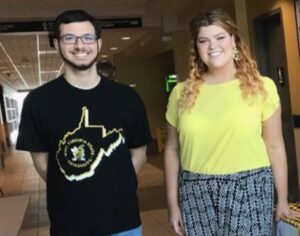 After winning a special election earlier this semester for Student Senator, Nadia Price won re-election by a landslide, holding 62 percent of the votes. In another Student Senate race, College Ambassador Mekhia Day won with 62 percent of the votes.
The following candidates ran unopposed:
Miss State – Kay Atkins
Mister State – Jeremiah Hairston
Mr. Sophomore – Rashawn Baker
Ms. Sophomore – Angelica Allison
Ms. Junior – Regin Maxwell
Ms. Senior – Charlinda "Breezy" Colbert
Below is a breakdown of the exact voting results, with 175 students casting ballots:
•SGA President/Vice President – Colleen/Ryan (102), Michaela/Kelli (73)
BOG Rep – Grazielle Preterotto (62), Brandon Martinez (50), Nicole Smith (42), Scotti Hager (21)
Student Senator – Nadia Price (109), Karina Davis (66)
College Ambassador – Mekhia Day (108), Karina Davis (67)
Miss State (175) – Kay Atkins (175)
Mister State (175) – Jeremiah Hairston (175)
Ms. Sophomore (21) – Angelica Allison (21)
Mr. Sophomore (21) – Rashawn Baker (21)
Ms. Junior (25) – Regin Maxwell (25)
Ms. Senior (20) – Charlinda "Breezy" Colbert (20)