Seniors Noah Fulks and Dylan Jayasuriya each won singles and doubles matches on senior to lead State to their first win of the season, winning 5-2 over UVA-Wise.
Prior to the match seniors Fulks, Jayasuriya, along with Ethan Cross were honored for their four-year commitment to Yellow Jacket men's tennis.
In doubles action Fulks and partner Ryan Mullins cruised to a 6-2 win at #1 doubles, but UVA-Wise levied it a one apiece after Cross and Adam Walters dropped #3 doubles 6-4.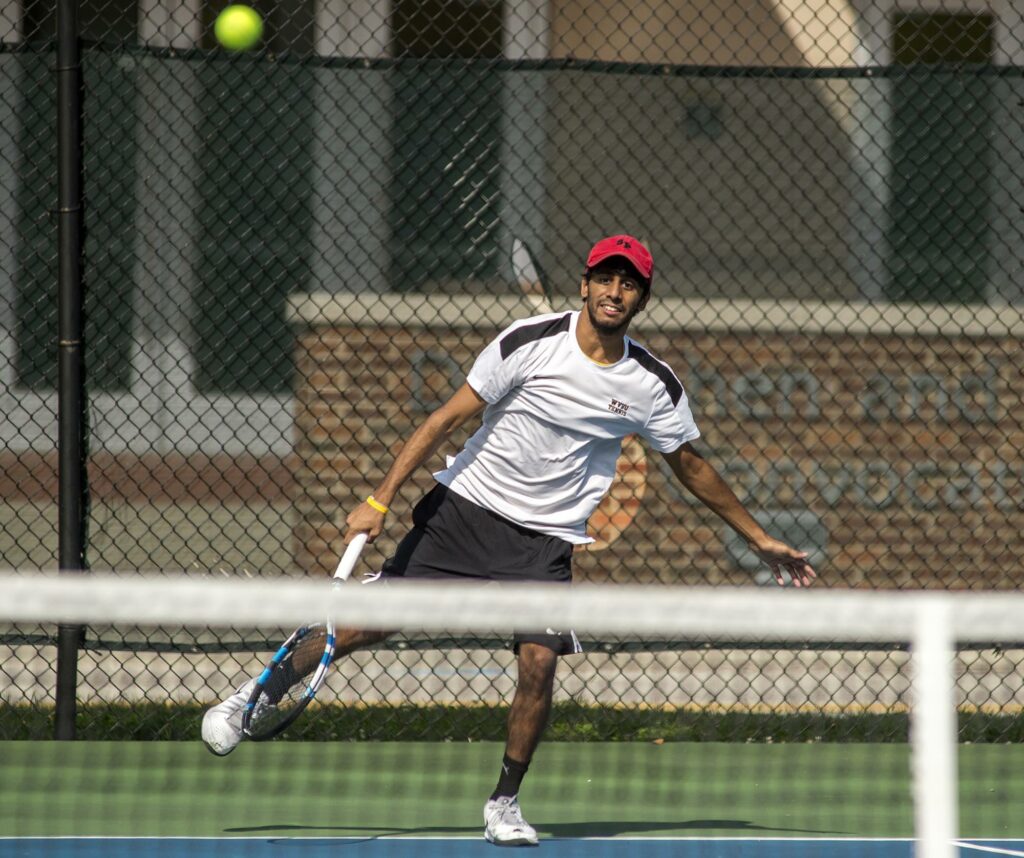 Jayasuriya and Zack Fraley held a 5-2 lead at #2 doubles before UVA-Wise got it back to 5-4 with Fraley serving.
After a tightly contested game, it all came down to a deuce point, which Fraley won for State after hitting a strong serve that the returner was unable to control winning the match 6-4 and clinching the doubles point for State.
Ryan Mullins continued his impressive freshman season for State, winning 6-1, 6-0 at #1 singles, winning the final 12 games of the match.
Fulks cruised in his first set winning 6-1, and had match points in the second set up 5-3 and 5-4, but his opponent dug in and forced a tiebreaker.
Fulks saved his best for last and won the tiebreaker 7-1 to push State's lead to 3-0.
Jayasuriya had a tightly contested match at #3 singles, winning his first set in a tiebreaker despite the best objections from his opponent.
In the second set Jayasuriya broke his opponents serve early in the set and eventually fought it out and won the set 6-4, clinching the first win of the season for State on senior day.
Ethan Cross added an 8-2 win for state at #5 singles pushing State ahead 5-0.
UVA-Wise earned their lone points of the day when Zack Fraley lost #4 singles 6-1, 7-5 and Austin Gessel dropped#6 singles 8-2.
"We knew it wasn't going to be easy today," Jayasuriyasaid. "The doubles point was so important. After that for my singles match being so close, I definitely felt the nerves. I just kept fighting and what I was doing was working and it paid off."
The win also gave first year Head Coach Ryan Pulliam his first win at State.
"We had this one marked on our schedule for a long time," Coach Pulliam said. "This match showed what an absolute team effort college tennis is. So often in conference play doubles is the most important factor, and after winning the doubles point it was all about applying pressure on the scoreboard and never letting up. Every court had its battles but I feel that we did an excellent job closing out when necessary."