By Austin Gessell — For the YJ
Being a college athlete while being a second-semester senior is incredibly strenuous. Mix in coming from another country and transferring to State, most students would fall behind in the classroom, or on the field of play. But not Mar Lamadrid of Calella, Spain.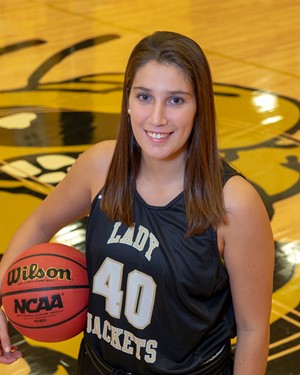 Lamadrid is a State Women's Basketball player that has played all four of years studying the U.S., and transferred to State at the beginning of the 2017-2018 school year after being a student-athlete at Sheridan College, a Junior College in Wyoming.
After starting in Barcelona where Lamadrid was a member of a club team for six years. " My team was really competitive and we played against the best teams in the nation", she said.
It was tough for her to leave home but her dream and future was a priority. " It's always hard to leave home, but it was easier thanks to my family. They supported me and were extremely proud of me".
Not only has Lamadrid showed her talent to her team during games and practice, but outside the gym as well. Amari Grace, a sophomore teammate, compliments her by saying," I trust her one the court, and off the court". She goes on to say," she's funny, nice, and a great passer".
"We are trying to enjoy every moment because we know this is our last season", says Lamadrid, " I like to remind myself how lucky I am to play college basketball". Lamadrid and the Yellow Jackets return to the court on January 30th, when they'll host Notre Dame College